How to Read Your Bill
This sample bill is for descriptive purposes only. Dates, values, packages and rates may not be representative of those currently in effect.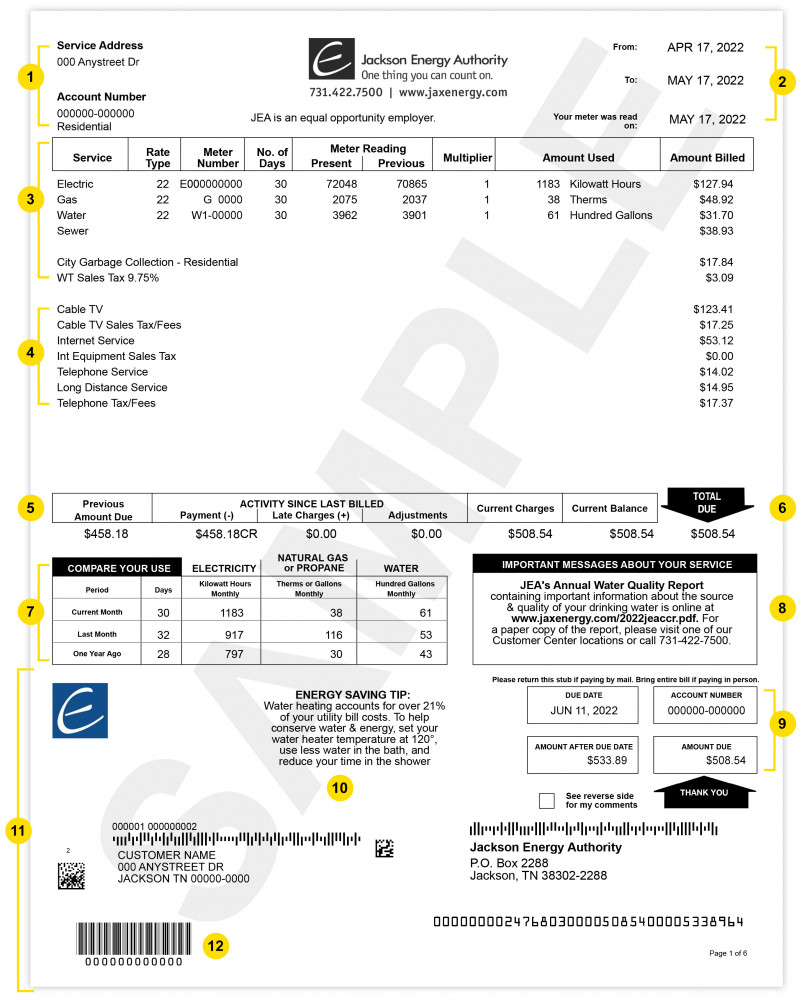 Customer Information:

Service address – location where services are used
Account number – 12-digit reference number unique to every Jackson Energy Authority customer
Customer classification – indicates whether you are residential, commercial or industrial

Billing Dates:

From/To – the period of days from the previous month's reading to the present
Your Meter Was Read On – the date the meters were read

Utility Service information:

The itemized list of utility services as well as garbage collection fees, security light fees, gas grill payments and applicable taxes
The number of days in your billing period (ranges from 28-32 days)
The present meter reading and the meter reading from the previous month
The amount of energy used (subtract the previous reading from the present reading to get the amount used)
The costs of the amount of services used
The costs of the additional items, taxes and services

EPlus Broadband Service information:

The summarized list for EPlus Broadband services and applicable taxes/fees. Itemized listing and descriptions of EPlus Broadband services are on separate pages. Visit eplusbroadband.com to view the sample pages for EPlus Broadband services.

Payment Activity:

The amount of your previous month's bill
Any activity since the last bill such as payments made, late charges incurred or adjustments made
The current charges for the amount of services used
The current balance (will reflect balance due along with late charges or adjustments)
Total amount due for the current bill

Total Due:

Total amount due for the current bill

Usage Comparison:

When comparing energy usage, many factors determine the amount used therefore your utility bill cannot be compared equally on a month-to-month basis. Factors such as weather, temperature swings, amount of individuals in the household, amount of days in the billing period, etc. can all affect your energy usage.
Period and days - The timeframe and amount of days in that particular timeframe
Monthly usage – The amount of energy used monthly in that particular period

Important Messages:

This area highlights any messages regarding your service, notifications, special offers, etc.

Bill Overview:

Area on the payment stub that indicates the date due, account number, amount due and late payment amount if paid after the date due

Marketing Messages:

Brief messages relating to new applications, services, notifications, energy saving tips, etc.

Payment Stub:

Overview portion of the bill that detatches for cash payments, mail payments or account reference

Account Number Bar Code:

Bar code generated from the unique account number used for processing payments and for scanning at self-pay kiosks for payment.