Energy Cost Comparison
Jackson Energy Authority aims to offer the tools needed for contractors and developers to make informed decisions when building their next project. The Energy Cost Comparison below is a tool that provides the current raw energy costs to help the contractor/developer make an educated decision on energy efficiency when designing a new home, business or facility. It is simply a reference of raw energy costs and not intended to be an exhaustive, comprehensive resource. Other factors such as appliance costs, installation costs, impact of efficiency ratings, return on investment, appliance quality and durability, etc. should be considered as well.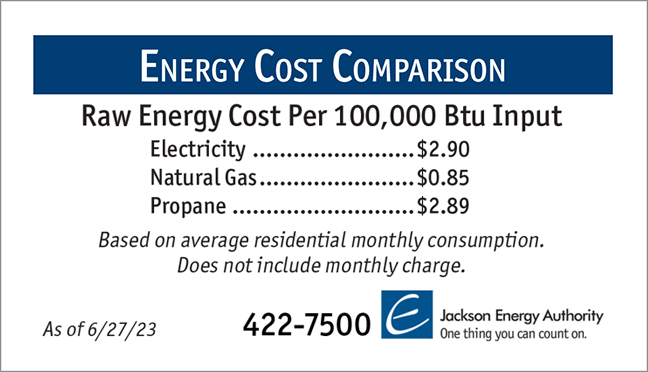 The numbers referenced are based on average residential monthly consumption and are derived from an extensive calculation of the raw cost of each specific energy translated into cost per 100,00 Btu's (the traditional unit of heat). While propane rates change annually, electric and natural gas rates will fluctuate as economics and markets dictate.